SDCL Digital Platform is the first in Samoa. It uses the latest DVB T2 technology hosting 7 television channels, a free government channel and a digital radio channel.
In a historical move by Samoa's digital television platform service provider, the country has achieved 99.99% coverage for the first time since the government introduced television in 1993. Up until now, certain villages in Upolu and Savaii have never been able to access television coverage.
Today 15 villages in Upolu and 8 in Savaii can enjoy television for the first time, through Samoa's Digital Platform. Speaking at a meeting with broadcasters this week, Prime Minister Tuilaepa Sailele Malielegaoi said, "For many years our government has been pushing for broadcasters to digitize their broadcasting but it never happened, but thanks to SDCL they were able to transform the way TV is broadcasted within one year" The Prime Minister then also announced that the analogue system would be officially closing down on the 31st of August 2020, as Samoa makes the historical move to the improved Digital Platform.
For Upolu, the good news comes for the villages of Uafato, Sauano, Saletele, Samamea, Musumusu, Salimu, Tiavea-Uta, Tiavea-Tai, Amaile, Saleaumua, Laulii, Fusi Saoluafata, Vailoa Saoluafata part of Faleseela and Matafaa, and part of Salelesi. For Savaii the villages are Patamea, Tafua-Tai, Tafua-Uta, Neiafu-Tai, Neiafu-Uta, Falelima, part of Falealupo and part of Asau. Not only will these villages be receiving coverage, but they will also enjoy uninterrupted, crisp, clear digital television.
The project was fully funded by SDCL due to its vision and driving passion to help build Samoa's economy through expanded broadcasting and telecom markets; the Samoa Digital Communications Limited is the first digital platform provider for television in Samoa. SDCL stepped up to ensure local ownership was secured, when government had been exploring overseas based companies to invest in the digital platform infrastructure. As a locally owned company that is new to the industry, SDCL has secured global partners and collaborates with international best-practice providers, to ensure Samoa is right up there with international standards.
"We are not a television station; but as a digital platform provider, we want to deliver high quality technical support for our television networks, at all times.
The SDCL digital platform offers 12 channels for Samoa. Six of those channels have been taken up by Samoa's current Television Stations, while one has been tagged as a free government channel such as is commonly available in overseas countries, for community-based programmes. SDCL says that there has been overwhelming interest shown for the remaining five channels.
"We have received a lot of expressions of interest, so we will be treating the allocation of the remaining channels on a first come, first serve basis."
"We are also excited to announce that TV5, is the latest station connected to our Digital Television Platform". TV5 is a new channel that has just been issued a Content License from the Office of the Regulator. "Their content is entertainment-focused and we welcome TV5 on the platform".
The public will no longer need to strain their eyesight to put up with cloudy transmission or stripes across their screens when watching their favourite television programs. SDCL has brought in state-of-the-art transmitters and repeaters to make sure that signal distribution through its network has minimal disturbance, and the coverage signal of the connected TV stations is equally distributed to the population.
"For the first time ever, the whole population of Samoa will not only be receiving the signal, but will also be experiencing the quality difference of digital technology.
"Digital TV supports picture resolutions much higher than those of analogue technology. It is what is called progressive scanning; it results in much better picture definition and a sophisticated picture quality".
With all television networks now able to deliver high quality picture and sound, the competition amongst tv stations will now inevitably be focused on their ability to deliver quality content for its viewers.
"We at SDCL believe that while the market is a free to air television and radio market, the backbone of a company's competitive strategy will now depend on its internal initiatives, to deliver superior value to customers".
"There is no doubt that this market has the potential and can boost the economy of our country if we all work together to help the market grow. As a locally based company, we are committed to not only serving our country, but to help stimulate the local economy by keeping the money circulated within Samoa. We hope to work closely together with all our television stations and want to see our future generations continue these initiatives in the long run. It is now more crucial than ever before, to keep our country informed of what is happening in the region, and around the globe".
What You Need to Know
With our 99.99% coverage, it is important for SDCL to know that everyone is aware of how this technology will be coming into your homes, and how you can best receive this superior coverage.
Have a look at this map to get a fair idea of what kind of antenna you would need, and which tower is closest to you, so you are better equipped to point your antenna to the nearest tower.
It is important to note that all our towers in Savaii are UHF towers so antennas for all Savaii residents would need to be UHF antennas. This means you will need to get either a UHF antenna or an antenna that has a combination of UHF and VHF.
In Upolu, there is a combination of UHF Towers and VHF Towers. The only VHF towers are at Aufaga, Salimu, Vaea, Mt Fiamoe and Siumu (marked red on the map). The rest of Upolu should be using UHF antennas in relation to the locations of the UHF towers.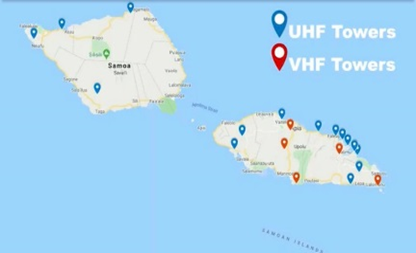 It is advised that when installing an antenna, make sure the antenna is pointed towards the site closest to your location, and remember that the antenna should be horizontally polarised. And to get the maximum quality, you will need an outdoor antenna.
Finally connecting your set top box correctly is equally important as knowing which type of antenna to use. The set top boxes have been manufactured specifically for Samoa, with advanced features included such as language change, child lock, setting date and time to be displayed on the screen, and the ability to set recording times, so you can save your favourite programs to your set top box.
SDCL is looking forward to capitalising other avenues to help our country transition into its digital transformation. We are eager to working hand in hand with our shareholders and government to serve our people. For more information and awareness on our products and services you can contact SDCL on telephone 7707293/7285174, email info@sdcl.ws or watch the JamilyTV You Tube Channel (link below) to see more information on what you need to know about your set top box, antenna system, and your coverage. Welcome to the Digital TV experience Samoa!